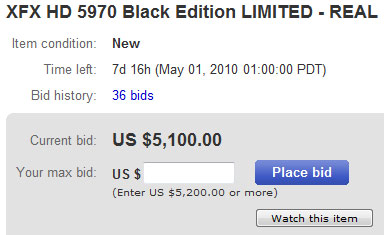 Legit Reviews took the screenshot above before Ebay removed it from their website.
The folks at CoolIT Systems seem to be onto something with their OMNI Advanced Liquid Cooler, a watercooling system similar to the Corsair H50. It is a completely self contained waterblock, fan, radiator and pump which is billed to fit any single graphics card; the normal OMNI uses a 120mm fan and they will release one for dual card systems with a 240mm fan that might end up living outside of your case. It is designed to be universal, so as you upgrade your graphics card you should be able to continue to use your OMNI ALC.
ATI Catalyst™ 10.4a Preview features:

The ATI Catalyst 10.4a Preview provides resolution for the following issue:

Long load times for new maps in Battlefield: Bad Company 2 when using a Windows 7 / Windows Vista based system with an:


ATI Radeon HD 5xxx series graphics card

ATI Radeon HD 4xxx series graphics card

The ASUS EAH5830 DirectCUis a very large example of an HD5830 thanks to a large and efficient cooler designed by ASUS. Not only does it give the card a rather distinctive look it cools a little more quietly. [H]ard|OCP's testing has shown that the cooler may not be that much more effective than the stock cooler but it only created concern during a very stressful benchmark, during gaming the card staye
Are we talking about as loud as the screaming classic Delta 80mm's? Perhaps louder than a FX5800 Ultra or maybe an industrial vacuum cleaner? The Tech Report thinks that maybe the noise produced by the GTX480 is not as bad as some would make it out to be. As it turns out a single FX 5800 Ultra was nearly 9 dB louder than a GTX 480 and the 2GB model of the HD5870 is 1dB louder. Perhaps not as bad as all that after all.


It will be a busy day and week for those of us in the broadcasting business as the 2010 National Association of Broadcasters event takes place in Las Vegas. We expect quite a few interesting announcements, the first of which is coming from Adobe as we speak. If you have been listening to our podcast or have been paying attention to our news, you have likely heard of the Adobe Mercury Playback Engine that was coming in the next iteration
While sitting at the ASUS OC Summit we came across a very interesting little graphics cards. Actually, it's not so little.
The Masters in 3D
We have been trying out new 3D coverage of the 2010 Masters golf tournament here in the office and wanted to share with our readers quick thoughts and how they can go about watching the sample 3D content if they already have a 3D Vision-ready configuration. You will need a really fast internet connection to get the 10 Mbit stream working but when it does, it impresses.
UPDATE:
We finally got our video review of the AMD Radeon HD 5870 Eyefinity 6
Edition graphics card up and ready for you to view. I apologize for
the delay here but we had some major issues with our editing software,
etc etc. I think you'll find the wait was well worth it!
AMD Brings Cypress to the Professional Market
AMD is ready with its next generation of professional graphics solutions starting with the FirePro V8800 based on the Evergreen Cypress GPU found in the Radeon HD 5870. This new FirePro offering includes a 2GB frame buffer, support for four displays and Eyefinity technology as well as offering performance not seen in any similarly priced developer-level GPU!