It is not just any GTX470's that [H]ard|OCP is testing in SLI, but the recently released Galaxy GeForce GTX 470 GC, with higher default clock speeds than the reference model. The testing went well and while it is nice to see the high fps scores the big question is how it scales as you are paying twice as much as you would for the single card. The direct comparison is a little hard to establish as in most cases the addition of a second card prompted a jump in resolution from 1920x1200 to 2560x1600 and turning additional graphics f
Kowloon Bay, Hong Kong May 10th, 2010 - Galaxy Microsystems Ltd.
The Sapphire HD5550 Ultimate incorporates most of the features wanted in an HTPC; passive cooling, enough graphics processing power to handle HD content and HDMI out along with VGA and HDMI. It isn't going to be doing much gaming, the performance is about equivalent to a GeForce G210 in most cases sometimes up to twice as good, but that is really not where this cards strong point are. Drop by Overclockers Club if you are shopping for an HTPC card or if you do CAD as this card does s
[H]ard|OCP brings you the solid numbers on what is need to power the newest of nVIDIA's cards, both singly and in multiples. Almost two dozen PSUs are recommended by the end as the power requirements of a single GTX480 might be high but seem almost reasonable compared to a tri-SLI setup. If you have a wallet thick enough to pick up these cads, you really should invest in a solid PSU at the same time. It is also a good guide to anyone building a rig with multiple
AMD released a pair of workstation cards over the weekend, the FirePro V3800 and the FirePro V5800. The V5800 uses the same GPU as the HD5770 , a Juniper XT GPU, and it sports 1GB of GDDR5. That is enough power to drive a trio of displays via a pair of DisplayPort plugs and a single DVI out. The V3800 is a little less powerful, based off of the Redwood Pro GPU used in the HD5570 and will only support a pair of displays. Both performed well under Linux at Phoronix
NVIDIA is opening up 3D
NVIDIA is updating its Verde driver, the mobile version of its graphics driver that was introduced a year or previously to help consumers that were frequently stuck with much older OEM-based drivers. With this update comes better performance but also support for a larger array of 3D technologies that move beyond NVIDIA's own 3D Vision
The rest of the Evergreen FirePro lineup
Earlier in the month we saw the release of the FirePro V8800 card as it dominated the top-level professional graphics lineup. Can the new V5800 and V3800, with price of $470 and $110 respectively, do the same for the rest of the professional space? Or will NVIDIA's aging Quadro line be able to hold off AMD until Fermi can come to the rescue?
With the excitement and news surrounding AMD's FirePro additions (including the V8800 and the V5800/V3800 today) another graphics card was released that might be more compelling to readers: the FirePro 2460 Multi-View. How could a half-height card with only 512MB of memory and an average power consumption of 13 watts get us excited?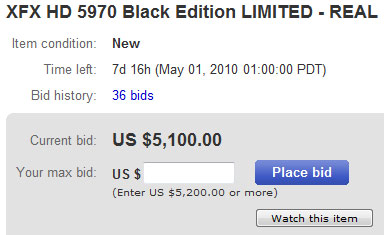 Legit Reviews took the screenshot above before Ebay removed it from their website.