AMD released a pair of workstation cards over the weekend, the FirePro V3800 and the FirePro V5800. The V5800 uses the same GPU as the HD5770 , a Juniper XT GPU, and it sports 1GB of GDDR5. That is enough power to drive a trio of displays via a pair of DisplayPort plugs and a single DVI out. The V3800 is a little less powerful, based off of the Redwood Pro GPU used in the HD5570 and will only support a pair of displays. Both performed well under Linux at Phoronix
NVIDIA is opening up 3D
NVIDIA is updating its Verde driver, the mobile version of its graphics driver that was introduced a year or previously to help consumers that were frequently stuck with much older OEM-based drivers. With this update comes better performance but also support for a larger array of 3D technologies that move beyond NVIDIA's own 3D Vision
The rest of the Evergreen FirePro lineup
Earlier in the month we saw the release of the FirePro V8800 card as it dominated the top-level professional graphics lineup. Can the new V5800 and V3800, with price of $470 and $110 respectively, do the same for the rest of the professional space? Or will NVIDIA's aging Quadro line be able to hold off AMD until Fermi can come to the rescue?
With the excitement and news surrounding AMD's FirePro additions (including the V8800 and the V5800/V3800 today) another graphics card was released that might be more compelling to readers: the FirePro 2460 Multi-View. How could a half-height card with only 512MB of memory and an average power consumption of 13 watts get us excited?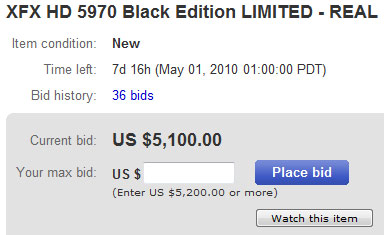 Legit Reviews took the screenshot above before Ebay removed it from their website.
The folks at CoolIT Systems seem to be onto something with their OMNI Advanced Liquid Cooler, a watercooling system similar to the Corsair H50. It is a completely self contained waterblock, fan, radiator and pump which is billed to fit any single graphics card; the normal OMNI uses a 120mm fan and they will release one for dual card systems with a 240mm fan that might end up living outside of your case. It is designed to be universal, so as you upgrade your graphics card you should be able to continue to use your OMNI ALC.
ATI Catalyst™ 10.4a Preview features:

The ATI Catalyst 10.4a Preview provides resolution for the following issue:

Long load times for new maps in Battlefield: Bad Company 2 when using a Windows 7 / Windows Vista based system with an:


ATI Radeon HD 5xxx series graphics card

ATI Radeon HD 4xxx series graphics card

The ASUS EAH5830 DirectCUis a very large example of an HD5830 thanks to a large and efficient cooler designed by ASUS. Not only does it give the card a rather distinctive look it cools a little more quietly. [H]ard|OCP's testing has shown that the cooler may not be that much more effective than the stock cooler but it only created concern during a very stressful benchmark, during gaming the card staye
Are we talking about as loud as the screaming classic Delta 80mm's? Perhaps louder than a FX5800 Ultra or maybe an industrial vacuum cleaner? The Tech Report thinks that maybe the noise produced by the GTX480 is not as bad as some would make it out to be. As it turns out a single FX 5800 Ultra was nearly 9 dB louder than a GTX 480 and the 2GB model of the HD5870 is 1dB louder. Perhaps not as bad as all that after all.


It will be a busy day and week for those of us in the broadcasting business as the 2010 National Association of Broadcasters event takes place in Las Vegas. We expect quite a few interesting announcements, the first of which is coming from Adobe as we speak. If you have been listening to our podcast or have been paying attention to our news, you have likely heard of the Adobe Mercury Playback Engine that was coming in the next iteration