The AMD 790GX chipset pops up to surprise us
Subject: Chipsets | April 16, 2008 - 12:19 PM | Ryan Shrout
Tagged:
I saw a post on Fudzilla that shows the first shots of a motherboard based on the AMD 790GX chipset - a product that hasn't really made its official introduction yet. The chipset offers most of the features of the 790FX chipset but with the added benefit of having integrated graphics on it as well; slightly better than the 780G platform that we were initially pretty impressed with.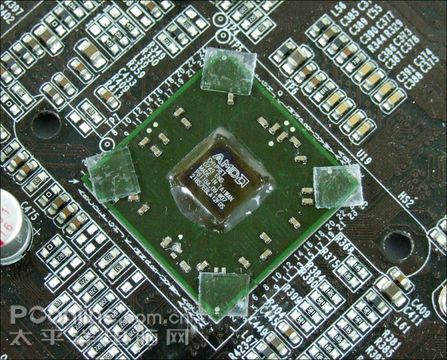 Although we've already told
you about the fact that the 790GX chipset supports Hybrid CrossFireX
with two graphics cards, what we didn't know was that the 790GX
supports a local frame buffer, just as the 780G. Sadly, hardly any of
the manufacturers of 780G boards have gone for the frame buffer option,
as it adds cost, despite the fact that the performance increase
validates the extra cost.
The Unika board uses a single 64MB DDR2 memory chip from Hynix and
although this doesn't sound like much, it adds to overall system
performance, as the IGP doesn't have to share system memory in Windows
and the frame buffer is faster than sharing system memory when you're
playing games using the IGP. The 790GX seems to have been given an
improved graphics core over thet 780G and it looks like it will go
under the name of Radeon HD 3300.